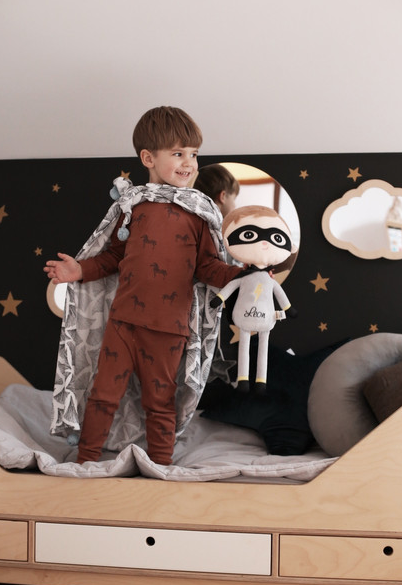 The Metoo Superhero Boy Doll 50cm doll is a fantastic offer for boys and girls.
 
The cuddly toy is made of very soft and plush material. It has interesting elements for boys such as mask, cape and lightning, which are perfect for playing role-playing, e.g. in Superhero.
Metoo Superhero Boy Doll is very light and handy despite its size. It has a pendant on top of its head, so it's easy to catch or hang it on the wall near the bed. Super Boy scares away evil spirits and lurking evil with the help of his super power!
Superhero boy will be a unique birthday present for small and large children, as well as for a baby shower or the birth of a baby.
From the very first moment our Super Boy will become the best friend of the recipient boy - especially if he sees his name on the tummy under lightning.
Total length 50cm plus ears.
The age of the child is 0+
The dolls are original and have the CE symbol, which means that the product complies with the basic requirements of health, safety and environment.
The Metoo Boy doll can be personalized.
 
The name is made of clothing foil that comply with EN71.

The waiting time for a doll with a name is about 2 business days - 99% of orders are sent the next day!
Personalized dolls are best washed by hand or max 30 degrees on a delicate program in the washing machine.